Gardeners: Unite with Woven Fabric Weed Blocker!
Annoying, pesky weeds can mar the beautiful aesthetic of a garden. To help keep them at bay, many green-thumbed individuals are turning to a savvy solution, woven fabric weed barriers. These barriers take up minimal space and provide an effective solution for preventing the growth of weeds in the garden.
Reducing weed growth can be a challenge in any garden, but a woven fabric weed barrier provides a reliable solution. The barrier is made with durable polypropylene or polyester fabric, which is cut into strips and then interweaved to create a protective blanket. Not only does this offer reliable weed prevention, but the material is also permeable, allowing vital air and moisture to penetrate the soil underneath.
Weaving a weed barrier out of fabric provides the added bonus of being feather-light and easily laid down. As opposed to the heavier-weight mulches such as wood chips and gravel, this fabric can be spread out and ready in a snap, which makes for an ideal solution in limited spaces where fast installation is key.
Utilizing an interwoven fabric weed resistant barrier will block out weeds from your dream garden. It can keep roots from establishing in the soil and still make way for air and moisture to permeate through it, consequently keeping the soil in top-notch condition and thwarting weeds from seizing control of the area.
The effectiveness and longevity of a woven fabric weed barrier makes it an ideal choice, especially when gardening in areas more prone to pesky pests. Excelling in the face of harsh UV radiation, this resilient fabric is safeguarded against premature breakdown. Additionally, the barrier is designed with insect resistance in order to maintain its strength and structural integrity regardless of environmental conditions.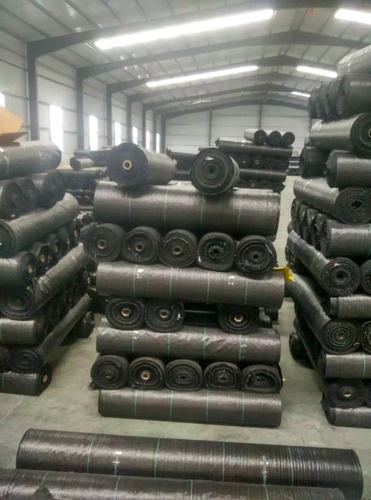 If tending to yardwork isn't your thing, consider installing a woven fabric weed barrier. It is designed to be swiftly cleaned with nothing but a hose spray, eliminating the time-consuming task of continual mulch maintenance.
If you're in the market for a reliable way to protect your garden from pesky weeds, then a woven fabric weed barrier could be your ideal solution. They are lightweight, so they don't add a ton of extra effort to the installation process. Plus, their composition makes them incredibly effective in weed prevention and maintenance. So, whether you're an experienced gardener or a novice one, this could be the perfect addition to your gardening arsenal.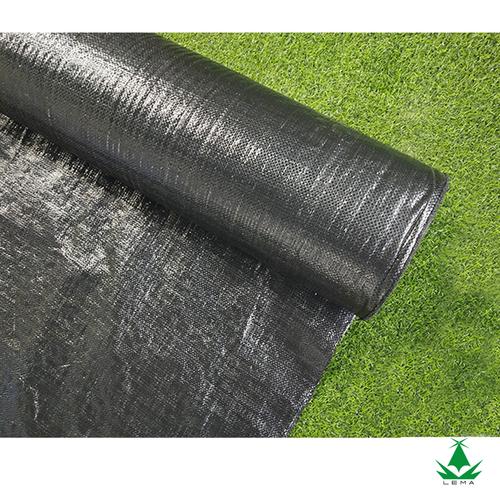 Gardening rarely goes as planned when you have pesky weeds entering the mix. These rebels compete against your plants, attempting to snatch away the water, nutrients and sunlight they need to thrive. Ending in the plants being deprived, your garden's produce is diminished and may even be killed off completely. Worry not, for there is still hope; a miracle cure known as the woven fabric weed barrier.
An effective and eco-friendly way to ward off weeds and protect your garden or lawn is woven fabric weed barrier. This landscape fabric functions as an all-natural barrier to stop unwanted plants from invading and harming the desired vegetation. It is a sensible solution that does not require any chemical treatments to get the job done. Plus, this fabric is biodegradable, making it a safe choice for the environment!
Polyethylene – a type of plastic – is woven into a robust fabric that proves to be long-lasting over the years. Its tight weave makes this fabric an effective means of protecting against weeds, both hindering the sprouting of weed seeds and stemming the spread of already-established ones. All you have to do is lay the fabric down in the areas in need of safeguarding.
The fabric possesses the unique quality to be permeable, granting access to air, water, and essential nutrients to aid in the growth of your plants. Further, the permeability assists in conservation efforts as it prevents water from dissipating into the atmosphere.
Weaveable barrier fabric is a breeze to set up; just cut it to whatever kind of size and shape you like. Though prior weed elimination is encouraged for ultimate success, you can still spread this fabric over existing weeds if needed. To keep it rooted firmly in place, utilize landscaping pins or staples; this helps to guard against slippage or wind carrying it off.
When it's time to discard the cover fabric, you have two options; tug it off or snip it into fragments. It decomposes in no time and can swiftly be put in the compost heap or disposed of in a dustbin.
If you want to keep pesky weeds from infiltrating your garden or lawn, a woven fabric weed barrier is an ideal solution. It's effortless to install and can be maintained for years with ease. This is an effective and environmentally-friendly optiom, so it's a great choice if you're searching for a way to keep weeds in check.
Related Product
---
Post time: 2023-07-13