PP Woven Geotextiles are a series geotextiles made of high-performance polypropylene woven geotextile fabrics combining strength, durability and robust design. All these PP woven geotextiles have proved their credibility in the industries with their excellent properties, including high tensile strength, elongation, UV resistance, weather proof quality and high flow rate
Products:
PP Woven Fabric
Material:
PE PP
Weaving Condition:
weaved by circular jet loom
Mesh:
7×7 8×8 9×9 10×10 11×11 12×12 14×14
Weight/gram per square meter
70–150g/sm
Width:
70-520cm,available for wider fabric by heat sealing. Or as the clients' requirment
Size:
any sizes by the clients'requirment
Colors
mainly in black,green or other colors as per your request
Coating
PP laminated both sides
Making
rope reinforced hem ,heat sealed edges every eyelet interval 1m or three feet ,corner reinforced with triangle plastic sheets
Characterics
1.Binding resistant,press resistant
2.water-proof ,sun-resistant,anti-aging, tear proof.
3.antifreeze,corrosion-resistant
4.could be produced with uv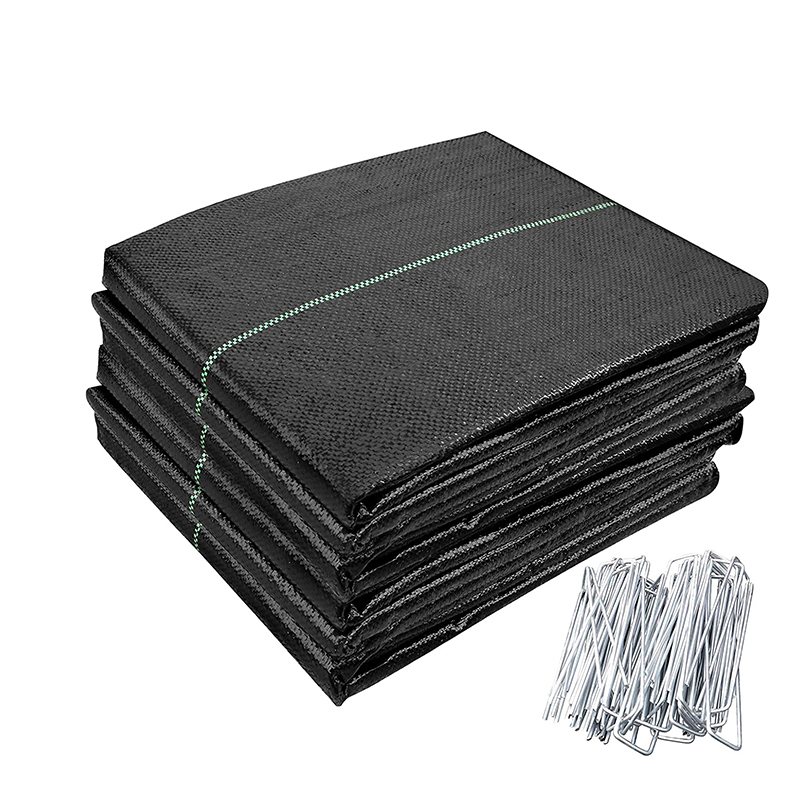 PACKAGE :Rolls with paper tube inside + PE bags outside+label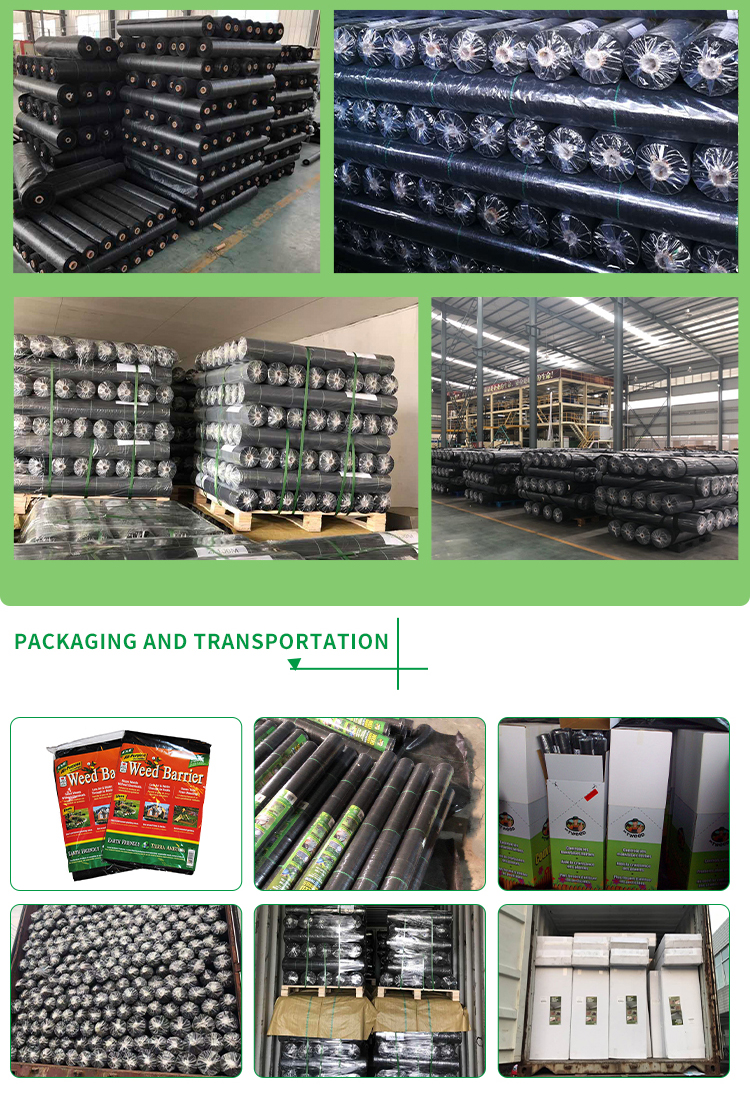 Application
Function:
1.Prevent growth of weed
2.Prevent use farm chemical and good to earth and environment
3.Assure our body heath eating healthy earth products
4. Exceptional toughness and strength
5. Durable, tear-resistant; won't rot or mildew
6. Lightweight, easy to install, follows natural ground contours
7. Ideal for use in garden,flower greenhouse,fruit garden, landscaped beds,under decks and walkways.
High Strength Stabilization Fabric: The woven polypropylene geotextiles provide high tear and puncture resistant strength. This fabric is commonly used to stabilize the base course for roadways, driveways and sidewalks. Fabric Benefits: Reduces the amount of base materials required for stabilization High puncture and tear resistance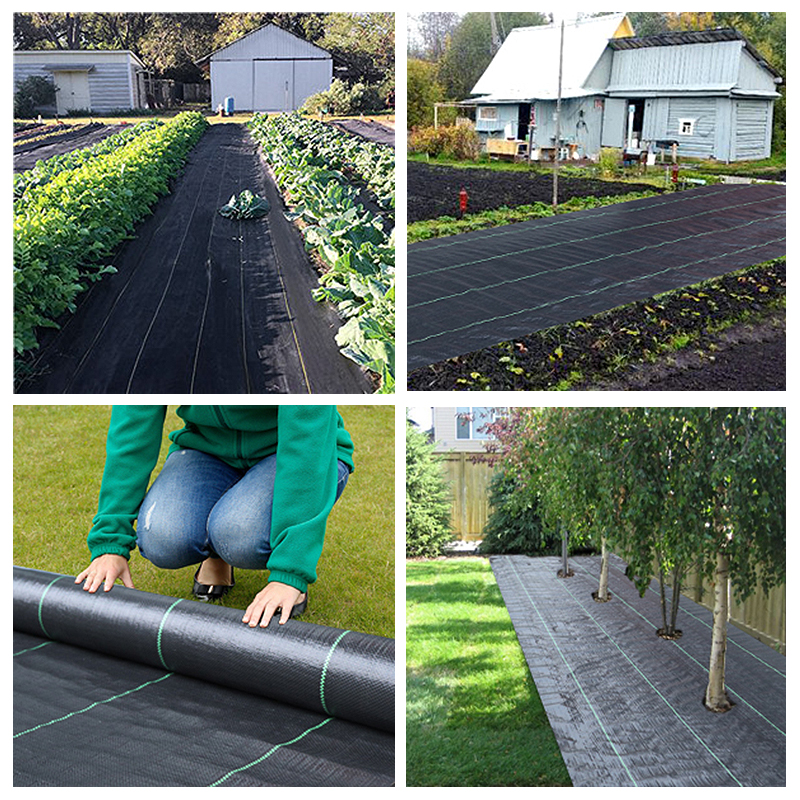 We are excited to unveil our latest offering- The Woven Geotextile or Weed Mat. This cutting edge product boasts incredible strength without compromising its many eco friendly benefits that promote good health amongst users.
Our focus on sustainability drives the need to steer clear from harmful chemicals that threaten both humans and nature; hence we have developed this masterpiece that curbs weed growth naturally.
High grade materials were used in manufacturing this outstanding product resulting in its high durability levels; tear resistance capacity as well as resistance to rotting and mildew attacks. This resilience enables it to thrive even under harsh climatic conditions that would quickly damage conventional products resulting in costly repairs.
Our Weed Mat offers a wide array of uses such as beautifying your lawn with beautifully landscaped flowerbeds; growing plants in your greenhouse; gardening fruits trees within an orchard area; creating safe walkways on any surface type whilst being gentle on users' feet & minimizing dirt spread around these areas; installing under decks where water damage prevention is paramount.
One of the numerous advantages of using our Woven Geotextile or Weed Mat is its ability to reduce the need for harmful and toxic chemicals by mitigating unwanted weed growth. Our eco-friendly solution not only safeguards the environment against harmful pollution but also encourages healthy food consumption by producing natural earth products.
By choosing our product, you're actively contributing towards saving planet Earth while promoting better health for ourselves and future generations. Our Woven Geotextile is lightweight, making installation an effortless process; no specialized tools or equipment needed! Its adherence to natural ground contours ensures that your landscapes retain their natural beauty while protecting them from weed infestation. Furthermore, this exceptional product is incredibly durable; its robustness guarantees years of use with minimal maintenance requirements! Overall, if durability, rot-resistant material are essential factors in preventing weed growth in your garden – then look no further than our remarkable Weed Mat.
Our weed mat offers effortless installation and conforms to the natural contour of the ground, making it the optimal solution for you. Place your order today and experience the difference firsthand.