The Wire Back Silt Fence is a strong erosion control fence designed for areas with demanding silt and erosion control requirements. Offering more strength and stability than a standard silt fence, wire back silt fence includes wire fencing that lines the entire fabric of the fence. This strengthens the silt fence for use against large amounts of sediment or silt.
Wire backed silt barriers are available in a 70 or 100 gram fabric and include several field and welded wire options.
| | |
| --- | --- |
| Product name | Wire Backed Silt Fence |
| Geotextile Type | Woven Geotextiles |
| MOQ | 200rolls |
| Weight | 60gsm-150gsm |
| Roll Length | 50m,100m,200m or as required |
| Feature | Easily Assembled, Eco Friendly, FSC |
| Color | Black, Blue, Orange |
| Usage | sediment controll |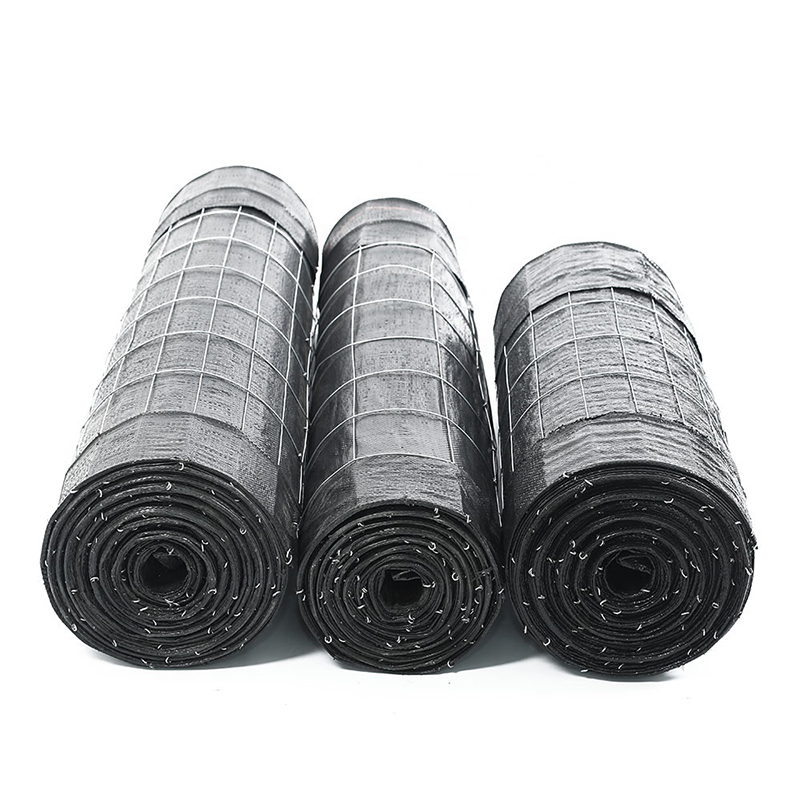 | | | |
| --- | --- | --- |
| ROLL SIZE | FABRIC WEIGHT | WIRE DIAMETER |
| 24"×100′ | 70G | 14AWG 2"×4 WELDED WIRE |
| 24"×100′ | 100G | 14AWG 2"×4 WELDED WIRE |
| 36"×100′ | 100G | 14AWG 2"×4 WELDED WIRE |
| 24"×100′ | 70G | 14AWG 2"×4 WELDED WIRE |
| 24"×100′ | 100G | 14AWG 4"×4 WELDED WIRE |
| 24"×100′ | 100G | 14AWG 4"×4 WELDED WIRE |
| 36"×100′ | 100G | 16AWG 2"×4 WELDED WIRE |
| 36"×100′ | 100G | 16AWG 2"×4 WELDED WIRE |
Packing:Bulk Package or Pallet . In rolls with paper core inside and polybag outside or as your request.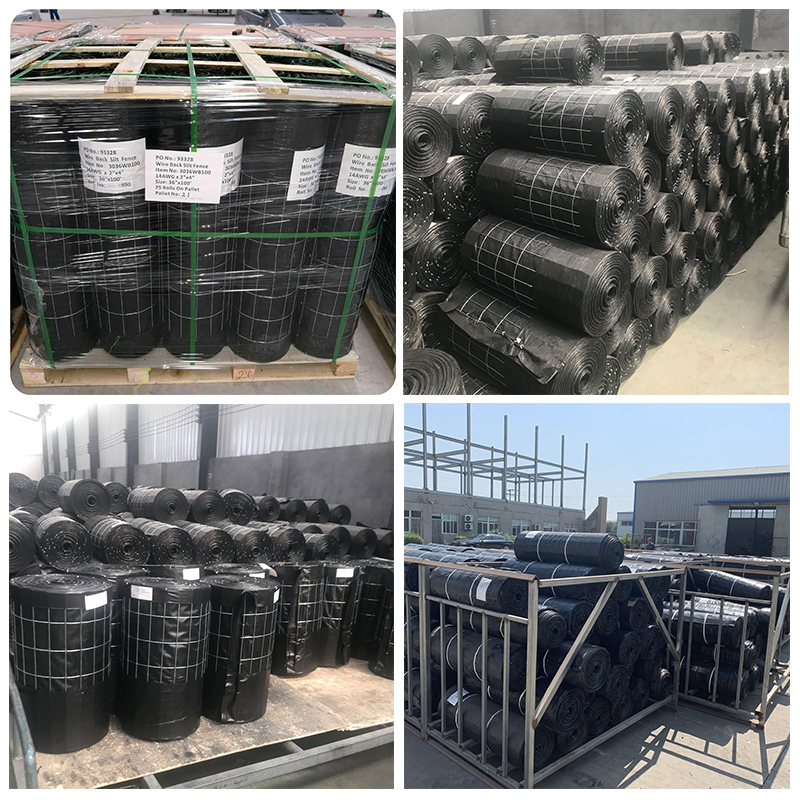 Application:
The slicing method for silt fence installation utilizes an implement towed behind a tractor to "plow" or slice the silt fence material into the soil. The slicing method requires the "Tommy" silt fence machine or equivalent. Silt fence machines install the silt fence by slicing through the soil, rather than excavating it. Slicing minimally disrupts the soil upward and slightly displaces the soil, maintaining the soil's profile and creating an optimal condition for future mechanical compaction. Compacted soil resists water infiltration and moisture saturation, thus nearly eliminating washouts.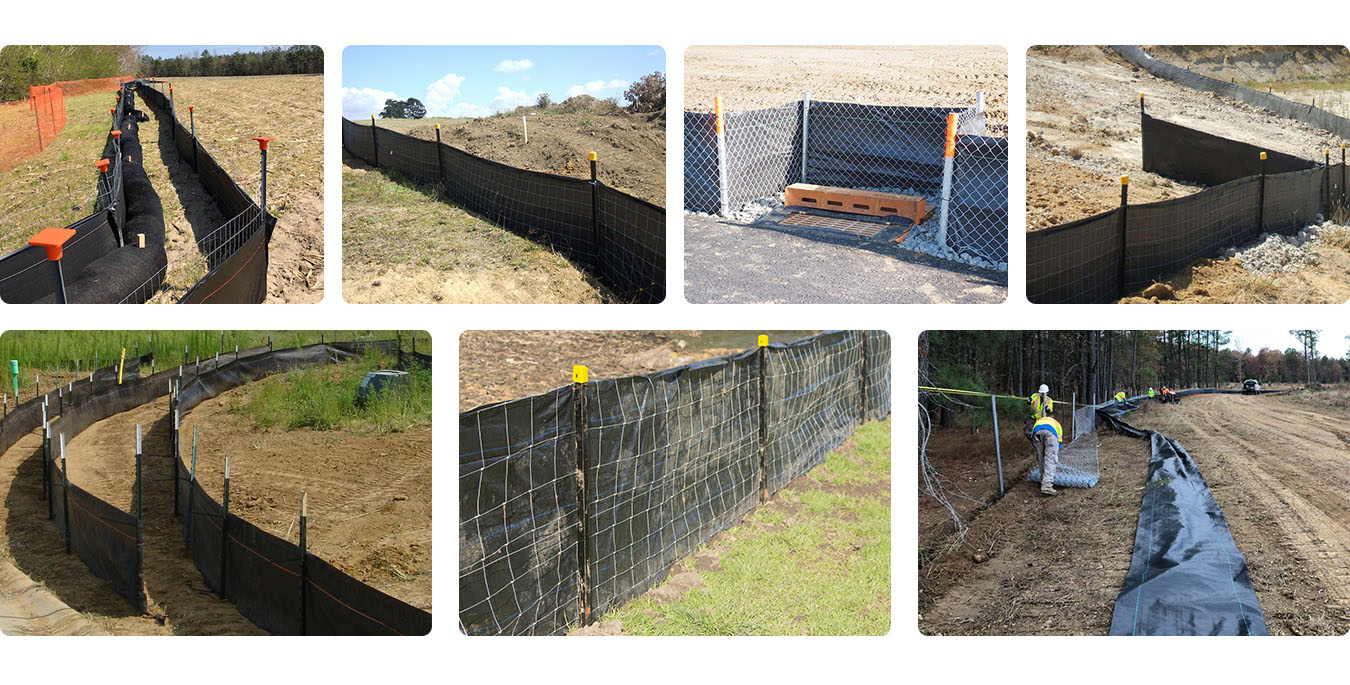 The perfect solution for demanding silt and erosion control needs – thats what the Wire Back Silt Fence promises! This exceptional erosion control fence boasts enhanced strength and stability compared to ordinary silt fences, courtesy of its innovative wire backing technology. The wire fencing covers every inch of the fabric of this fence bolstering its durability significantly and enabling it to withstand heavy sediment loads or silt buildup with ease.
Clients can choose from different options like 70 or 100 gram fabric weights along with various field and welded wire choices that make this product an extremely versatile option for various applications.
Whether you are working on a construction site protecting natural habitats from damage by pollutants or looking at ways to prevent soil erosion on your land – look no further than the Wire Back Silt Fence! This exceptional product offers unmatched strength compared with standard silt fences in use today because of its wire backing.
The fence stays put even during heavy sedimentation or natural erosion events providing reliable protection from soil erosion and sediment runoff. When dealing with erosion control head on every expert knows that having sturdy fencing in place is essential – its not for no reason that fencing is considered as a crucial component of effective sediment control. However constructing something sturdy alone won't suffice- convenience also plays an important role in determining practicality. The patented Wire Back Silt Fence has been designed bearing in mind both factors – not only is it lightweight but also compact so that installation becomes effortless while ensuring durability that can withstand various conditions over time.
Moreover depending on your project specifications- residential or commercial- different fabric weights and wire options are available so that you may customize your fence specifically for your requirements. You won't have to search any further if you're looking for a reliable solution as the Wire Back Silt Fence ticks all boxes – unparalleled endurance under pressure without compromising on adaptability or versatility plus its manageable size making handling effortless all in one package! To those seeking an effective solution for improving their websites functionality look no further than our product. It boasts significant benefits that are sure to impress and it won't be long before you notice the marked difference it makes.