Weeds can transform a well-maintained garden or lawn into an unsightly disaster, but selecting the right weed barrier is an effective means of keeping your garden's appearance looking its best. There are a few materials that can be used, such as plastic, fabric, or even natural materials, and setting the weed barrier in place is no difficult task. All it takes is a few easy steps.
When you look at ways to banish weeds from your garden, plastic sheeting is likely the go-to solution. It is budget-friendly and can easily be customized to fit whatever space you need to cover. However, alternatives such as fabric and natural materials can also be effective in blocking weeds. These might be more costly initially, but they tend to last longer than plastic sheeting.
Before you begin, clear the area of any impediments like weeds, sharply-angled rocks, or other unwanted detritus. Depending on your selected weed barrier material, it might need to be flattened and trimmed to fit. If fabric or naturally-sourced material is your chosen option, simply cover the entire surface area with it.
To prevent weeds from taking over the area, you have to first lay down a weed barrier. Then, keep it firmly anchored by pushing stakes or large rocks into the ground or by using U-shaped pins that will firmly hold plastic sheeting. This approach will ensure that your garden remains as healthy and vibrant as possible.
To protect your weed barrier from shifting and prevent any unwanted growth, it is a good idea to top it off with a layer of rich and nourishing topsoil. This will provide the perfect barrier between the light and moisture that undesirable weeds crave. To further stymie weed growth, you may wish to spread a layer of mulch on top of the soil.
To get the most lasting success in your garden, setting up a protective weed barrier is an easy solution. Take the time to select a suitable material, prepare the bed for installation, and make sure everything is secured to reap the rewards of having an impressively weed-resistant garden for further into the future.
Controlling weed growth is one of the most common struggles gardeners and landscapers face. Fortunately, utilizing weed barriers provides an effective means of keeping unwanted vegetation from overruning your horticultural paradise. Comprised of either plastic or fabric, a weed barrier sheet merely needs to be placed over the soil and is capable of significantly minimising weed population levels. To help ensure you receive the maximum benefit, this article will guide you through the steps required for properly laying down a weed barrier.
Deciding on the appropriate material for a weed barrier is your first step. Of the two typical contenders, plastic and fabric, the former is usually sturdier but may be harder to incorporate, whereas the latter is easier to install, although not as capable of containing weeds.
Once you've selected suitable material, the next step is to prepare the land for your weed barrier. Begin by eliminating any current weeds, foliage or roots. If you come across stones or any impediments in your path, get rid of them. Additionally, you may want to use a base layer such as gravel or landscape fabric to facilitate easier installation of the weed barrier.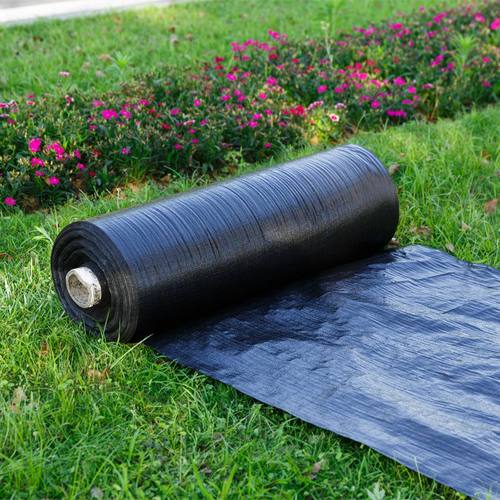 It's the moment we've all been waiting for – a chance to lay down the weed barrier of our dreams! With your material in hand, unroll it so that it is flat upon the ground, making sure there are no creases or blemishes. If plastic was selected then consider utilizing a staple gun when you want to fasten it to the Earth. Or, should you decide on fabric then fastening it with garden staples will serve your purpose.
To make sure that your weed barrier is properly secured, use either a plastic or fabric sealant to seal the edges. Cover every corner and side of the barrier with the adhesive so that weed growth is effectively blocked out.
In conclusion, it is imperative to top the weed barrier off with some soil or mulch. That way, it will be completely blanketed and shielded from any weeds. Make sure you distribute the dirt or mulch evenly over the weed barrier's surface for best results.
What do you get when you combine a bit of effort and some care? A weed-free garden or flowerbed that looks beautiful! Weed barriers are an effective way to keep your greenery looking their best. While it may take some time to install correctly, it is essential to follow the instructions carefully in order to obtain the desired results. Doing so will yield a stunning garden that can thrive without unwelcome, intrusive weeds.
Related Product
---
Post time: 2023-07-07